With pandemic restrictions lifting, let's call it a "foodie summer"
After a year of pandemic restrictions on big events, dining out and just hanging out with friends, we now declare 2021 as "foodie summer." All our favorite regional food festivals are back to sate our pandemic-repressed appetites for everything from fair-style concessions food to world-class barbecue and much, much more.
A celebration of the Inland Empire's chefs and tastemakers, Crave! is a three-day culinary event located at the Spokane Valley CenterPlace Regional Event Center, showcasing the creative talents of Northwest chefs utilizing fresh seafood, ranch-raised meats, and farm-to-table produce. Liquid refreshments and innovative social experiences round out the culinary festival, featuring a Grand Tasting, Seafood Bash, Fire and Smoke, and Foods from Around the World. Crave! is partnering with 2nd Harvest Foods and Wishing Star as beneficiaries of the event.
For tickets and information, visit cravenw.com.
By Chey Scott
The Inlander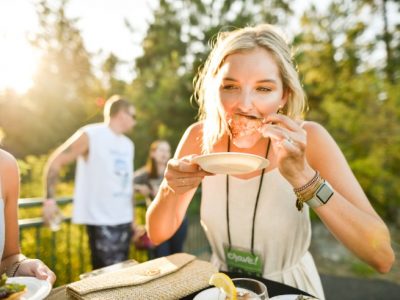 A three day event celebrating the Inland Northwest Culinary Scene?! That's my love language.
It all starts on Thursday, July 11th at Center Place Event Center with the SEAFOOD BASH. A luxurious celebration of fresh fish, shellfish and all things seafood! Last year the seafood boil with crab, corn, potatoes, and sausage stole the show along with the ahi stack from Anthony's. We can't wait to see what these talented, innovative chefs come up with this year.