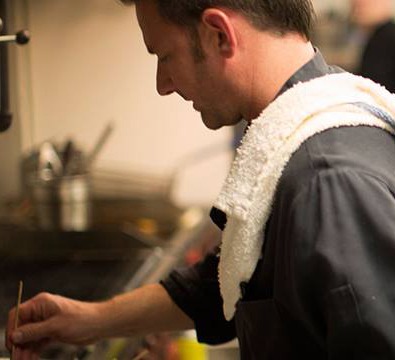 ~Hay J's Bistro~
In the winter of 2005 chef Patrick Fechser and lifelong restauranteur Rhonda Enter shared a vision together. A vision that entailed simple yet amazing food, hospitable service, and a wine & cocktail selection that would cater to all. Perhaps the most distinct piece of this vision was one of love for family, friends and food. In May of 2006 the mother and son partnership opened Hay J's Bistro. Little did they know, their journey had just begun.
~Piccolo~
In September of 2015, the culinary trifecta was completed with the opening of Piccolo Artisan Pizza Kitchen. Not only a pizza place, but a full service wine & beer venue with appetizers & salads. So come in, relax and enjoy one of our artisan style pizzas along with a glass of our fine boutique style wines…or a delicious chilled micro-brew while you enjoy the game on one of our 3 wall mounted televisions.
~The Butcher Block~
In February 2014, Hay J's Bistro expanded their business with a family friendly, neighborhood style, old time butcher shoppe. Located just 2 doors down from Hay J's Bistro, The Butcher Block offers the finest selection of quality meats, seafood, artisan cheeses, a variety of unique spices & rubs, sauces, salad dressings and several culinary accoutrements along with the friendly service of an old time neighborhood butcher shoppe.