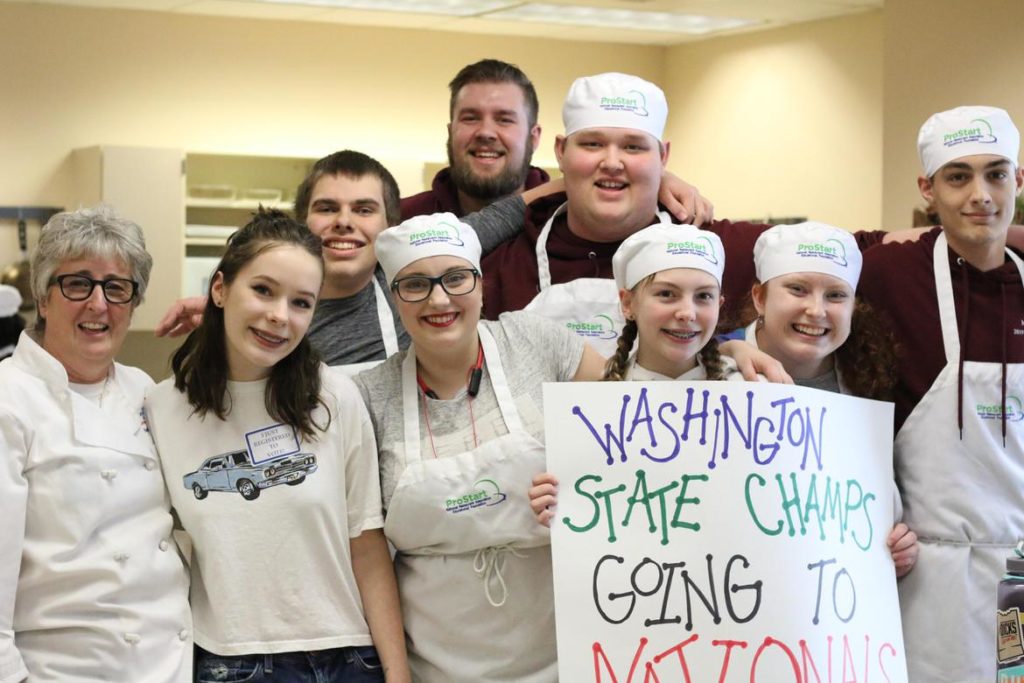 Mt. Spokane ProStart Team
Mt. Spokane made history! It is the first time a team from the East Side has won the Washington State Pro Start Invitational. They went to Washington, DC in May to represent the State of Washington in the National Pro Start Invitational. Chef Mentors  Aaron Fish and Caleb Hansen, Sous chef at the Chewelah Casino, will assist the team at Crave! during Seafood Bash. 
Imagine a three-course meal.
Pumpkin ravioli with wild mushroom filling, followed by pan-fried quail with warm black barley salad and lastly, citrus cheesecake made with goat cheese and drizzled with raspberry coulis.
Now imagine preparing this feast on a butane camp stove and cooking it in front of judges, and an audience.
That's what five Mt. Spokane High School students did March 9 in Seattle as they competed in the 2019 ProStart Invitational's West Side portion of the competition.
On Tuesday, they learned their efforts had earned them first place and the honor of representing Washington in the national competition in May in Washington, D.C.
"It's the first time a team from the East Side of the state has won first place in the culinary competition," teacher Joanie Pringle-Jones said. "I'm really proud of them. They treat each other with such respect."
In addition, Mt. Spokane senior Katie Gross was named ProStart Student of the Year and received a scholarship. Not bad for a student who said she didn't even know how to boil water before attending ProStart classes at Mt. Spokane.
"I was completely surprised," she said. "And honestly, so excited!"
Mt. Spokane wasn't the only East Side school that did well. North Central took second place in culinary and Rogers was second in the management competition.
Those two teams along with several others competed in Spokane on March 2. Created by the National Restaurant Association Education Foundation in the 1990s, ProStart is a two-year hospitality program offered at high schools nationwide. The invitational is organized by the Washington Hospitality Association Education Foundation.
Each year teams of student chefs compete against each other for scholarships and a chance to go to the national ProStart competition.
On March 2, the ballroom at the Davenport Grand Hotel buzzed with excitement and the faint smell of camp stoves filled the air during the ProStart Invitational's East Side portion of the competition.
Teams had 60 minutes to create beautiful, delicious three-course meals. The catch? They couldn't use any electricity, must bring their own water, and cook their meals using only butane camp stoves.
At the Ferris station, potatoes were dropped in boiling water, as lamb was sliced and chocolate melted. Four team members danced around each other in the tight space while an alternate served as team manager, carefully staying outside the designated cooking area.
"Students learn everything about food service from the front of the house to the back of the house," said Ferris teacher Brenda Marshall about ProStart.
Chefs in tall white toques patrolled the perimeter, keeping track of time, teamwork, culinary skills and cleanliness
Audience seating at each station meant not only were the teens cooking in front of professional chefs, they were cooking in front of friends, family members and other students, as well.
"It was very loud and very stressful," said North Central team member Aahanah Fischer, 15, after the event.
Despite the tension, the North Central Team worked together like a well-oiled machine, as they prepared a Japanese-themed feast including an egg-custard starter and seiro soba – cold noodles topped with warm broth.
"The team chooses the menu," said North Central teacher Kim Stewart.
The NC teens were so focused and precise, they finished well-ahead of their allotted time. Then nerves set in. They anxiously watched their plated food cool, as they waited to be called into the tasting room where two judges for each category: appetizer; entree; and dessert; evaluate, score and give feedback to the teams.
"We were worried about finishing on time, so we really worked hard," said Alexis Pyne, 17. "We blocked out the noise and the people and focused on what needed to be done."
Shutting out distractions and working under pressure is a huge part of the culinary world, so these teens experienced the real-life challenges of professional cooks.
"The reason they only have two burners is so they will learn to work together," said lead judge Jamie Callison, executive chef for WSU's Culinary Arts for the School of Hospitality Business Management.
But the ProStart program isn't just about cooking.
Across the hall from the culinary teams, other schools competed in the management competition. Teams were tasked with creating a restaurant concept including business plans and menus.
Rogers student Kaitlyn Holbrook 18, said, "We came up with the Lucky Lotus with super authentic Asian food. We looked at food trends of 2019. Authentic ethnic foods are trending."
Their work impressed ProStart judge Jeff Morgan, director of operations for Hops and Drops.
"I don't know if I could put together such a sophisticated business plan," he said. "It was well thought out."
Back in the ballroom, it turns out the North Central team needn't have worried about finishing so quickly. They served the meal in traditional wooden Japanese dishes, so the heat was retained.
"We got good feedback from the judges," Fischer said. "Their comments were heartwarming."
That feedback is encouraging to students like Mt. Spokane senior Grayden Sweet, aka "The Quail Master."
"It was nerve-wracking because as a senior this is my last chance," he said. "I was told I did the quail perfectly!"
In Washington state, ProStart serves more than 1,500 students per year. After completing the program, students receive a certificate of achievement they can show to potential employers that will help them earn a first job in the industry.
Both Gross and Sweet from Mt. Spokane plan to enroll in the culinary program at Spokane Community College.
But even students who aren't interested in culinary careers can benefit from participation in ProStart.
"Organization and teamwork are the most important skills they will learn," Callison said. "Those are the soft skills you need to be successful in whatever field you choose."