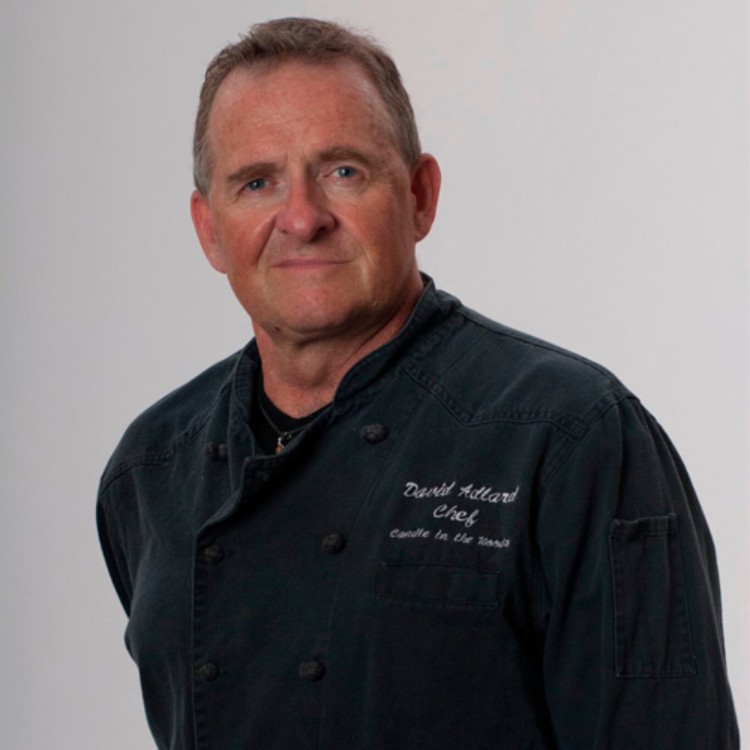 Dave Adlard doesn't wait for opportunity to knock; this two-time Ironman participant — he did his first at age 50 — creates his own doorways. A self-described adventurer whose background includes mountaineering, saber-fencing, writing and coaching, Adlard embodies the advice he shares with students: "Make a life and the living will follow."

At 55, he built a career that included coaching and running gymnastics camps and tournaments, as well as creating fitness DVDs for kids.

Adlard's path to high-level cuisine was similar. He'd been interested in cooking at a young age. As an adult, to immerse himself in the process, he apprenticed to a master chef who he says told him he had a lot of native ability, but "not much craft."

Although friends encouraged Adlard to open his own restaurant upon moving to Coeur d'Alene, he and wife Lisa opted instead to convert their rural North Idaho home into a dinner venue. They've operated Candle in the Woods since 2002, accommodating groups averaging from eight to 18 people. Candle in the Woods offers high-end, prix fixe meals, often paired with wines from their 4,000-bottle collection. Although the food is gourmet, the service is family-style, with an emphasis on relaxing, conversing and creating lasting friendships. One of their greatest joys, he says, is meeting people, especially through the dinners they donate to charity every year.

Adlard has also stepped in to guest cook at local restaurants, including Angelo's Ristorante in Coeur d'Alene, and took part this spring in the inaugural Chef's Week PNW, joining chefs Adam Hegsted, Molly Patrick and Travis Dickinson to create a seven-course tasting menu.

Although officially retired from coaching, he's still active in gymnastics — he's the meet director for the annual Great West Gym Fest — and still involved in teaching. In addition to adult cooking classes for the Culinary Stone, Adlard recently worked with owner Sandra Gunn to create the Culinary Kids Academy, a six-week class for children ages 7 to 13. Kids learn basic knife skills and kitchen etiquette, sauces, baking, sautéing, and meal prep and service.